Jonas Zeller Family Maryland to Illinois
Jonas Zeller born 1769 died Sunday March 8, 1835 in Washington County, Maryland on the west bank of the Conococheague Creek. Rumored to be the son of Jacob Zeller, Heidelburg, Baden, Germany.

Was married twice in his life, his first wife named Elizabeth died about 1815, then he married a widow Mrs. Susan Long who had four children from her previous marriage to Mr. Long.

Jonas and Elizabeth had seven children. Jonas and Susan were rumored to have had seven also, but only two have been found to date. The children will be listed at this site, and all other descendants will also be placed here.
My name is David Lee Zellers 1961, I am the third Great Grandson of Jonas & Susan Zeller... Many other family members helped me with many family items of interest, many I will mention within these pages. The purpose of this site is to give others the opportunity to view these items and records. I hope everyone enjoys this site, it takes the place of the recent deleted site at homestead.com. Any ideas or request are welcome.
Latest Updates ! - SORRY Guest book disabled because of inconsiderate salesman please contact me privately
Aunt Elenora Zellers who married first Joel Stoner then second Henry J. Row, had two children by Mr. Row, Henry "Harry" Row and Oliver Z. Row, they lived mostly in the North Dakota area of New Rockford. We have found Aunt Elenora's death date of November 28, 1932.. She was the third born daughter in order of birth of Daniel and Mary (Long) Zellers..
01-22-06 We have made contact with relatives concerning Aunt Elenora's family.. Most of these up-dates can be viewed at the Zellers Family website. If you have anything to add on these families please contact the webmaster.
FAMILY OF Daniel Zellers & Mary Long
Elizabeth Zellers 01-15-1844 = 08-27-1845
Sarah Jane Zellers 08-28-1845 = 04-04-1900 /m. Jacob G. Roland
Elenora Zellers 02-19-1847 = 11-28-1932 /m. Joel Stoner /m. Henry J. Row
John Fridley Zellers 03-22-1850 = 10-20-1902
David D. Zellers 12-19-1851 = 03-11-1926 /m. Laura V. Row
Mary Jeanette Zellers 12-16-1854 = 05-24-1926 /m. William Lewis Stine
Lovina Zellers 03-16-1856 = 09-12-1862
Daniel Boone Zellers 05-28-1859 = 03-29-1920 /m. Julia Ann Stouffer
Martin Henry Zellers 11-14-1863 = 05-24-1936 /m. Anna Mary Keedy
Children of Martin Henry Zellers & Anna Mary Keedy
Edward Daniel Zellers 09-29-1886 = 01-22-1963
Wilbur Lee Zellers 08-26-1888 = 10-14-1968 /m. Emily M. Peacock
Floyd Henry Zellers 05-20-1891 = 06-20-1955 /m. Ella Johnson
Ernest Clifford Zellers 06-25-1900 = 08-28-1977 /m. Ruth I. Wagner
Carl Eugene Zellers 10-08-1906 = 11-03-1994 /m. Kathryn A. Wolfe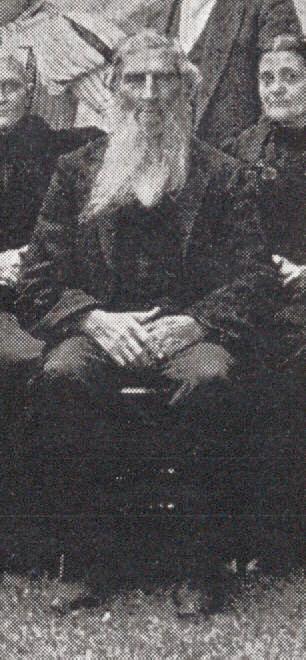 Daniel Boone Zellers 1818-1906 Son of Jonas & Susan Zeller
This photo taken at Aunt Kittie Rice's 100th birthday party in Mt. Morris, Ogle County, Illinois in 1897, Daniel was 79 years old.
Children of Jonas & Elizabeth Zeller
John Johannes Zeller 1797-1850
Samuel Zeller 1798-1868
Sarah Zeller 1800-bef. 1835
David Zeller 1805-1888
Mary Zeller 1810-1843
Michael Cramer Zeller 1812-1899
Children of Jonas Zeller and Susan Long
Nancy Zellers 1816-1863
Daniel B. Zellers 1818-1906
________________________________________________________
The Zellers' left MD. in April of 1844, on a wagon
train purchased to haul the belongings to Ogle Co., IL.
a four month trip which was over rough terrain.
The wagon had a team of horses that pulled it over the land,
one of the horses dead a week after arrival in Illinois.
They arrived in Illinois in August of 1844,
Daniel had the possessions and 90 cents pocket money...
Mary Long Zellers parents Daniel and Elizabeth (Fridley) Long
had already arrived in Ogle County, IL. in 1836 a few years
before their Son in Law and daughter.
Zeller to Zellers
The surname Zeller has been recorded in many different ways throughout our research. It has been recorded as ZOELLER / ZELLER / ZELLARS / ZELLERS / SELLERS. We didn't add the "S" till Daniel Boone Zellers 1818-1906 although Jonas had been listed as ZELLERS in probate records in MD. Two ZELLERS families lived in the same area at that time, most of the children were so closely named it made it difficult to distinguish the different families. I believe that they used variations to distinguish them apart from one another. They could of been closely related, although we have not proved this yet. I believe they were cousins.
Zellers Plot at Silver Creek Cemetery
Silver Creek Cemetery, located in Mt. Morris Township, Ogle County, Illinois. Looking east over Daniel B. Zellers Jr. plot, directly behind is Daniel B. Zellers Sr. family.

Below is a link for Zellers / Zeller burials in IL., MD., PA., IA., that have been posted by myself. Just click the link then click the interments to view the memorials.